The Hampton Synagogue represents a departure from traditional synagogue and sanctuary design. The entire project was conceived as an abstract retelling of the story of the giving of the Torah on Mount Sinai. The entire eastern wall of the sanctuary is a sculptural mural, representing the theme of Sinaitic revelation. The windows and the parochet/Ark cover envision the picture of a mountain on a heavenly backdrop. The parochet/Ark curtain is made from brass, each piece painstakingly colored with natural patina resulting in the unique colorations of the composition. The design envelops the space and provides a dramatic setting replete with Biblical allusion, allowing the worshiper to make his or her own personal associations and connections.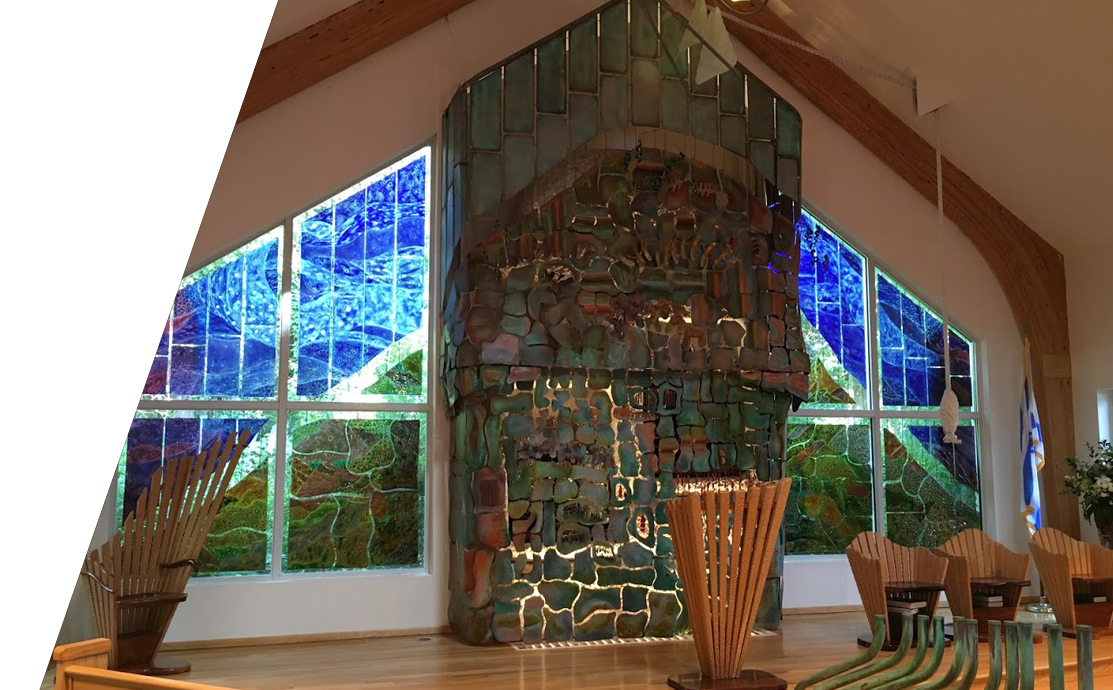 Observing the composition, one can feel the sky expanding and contracting, and the mountain itself shaking as the cloud of glory – in the form of the eternal light – descends upon the mountain. 
Yet, this is only the first level of the composition; looking beyond this outer layer, the natural foliage on the outside of the building becomes an integral part of the entire panorama. Through the spaces of parochet pieces, one can see the Ark, a 16-ton Jerusalem stone sculpture – literally and figuratively a 'mountain within the mountain.' Housing the Torah Scrolls, this element is at the visual and contextual core of The Hampton Synagogue. 
Of the most famous homilies in Midrashic literature are those that relay the notion that somehow, all of the people of Israel – past, present and future- were all miraculously present at the Sinaitic Revelation, the giving of the Torah. In some way, all of us were.
Architectural Designer
Edward Jacobs
Edward Jacobs Design is a multi-disciplinary, concept and design firm producing renowned projects worldwide ranging from public-space projects, spiritual environments, educational centers, memorial sites, synagogue interiors, industrial and product design, and graphic design. He is a recognized expert in the field of communication architecture, creating unique and creative presentation solutions for his clients. For more information please visit:
Architectural Design: Edward Jacobs
Project Architect: Nicholas Vero and Peter Tokar
Interior Design: Edward Jacobs