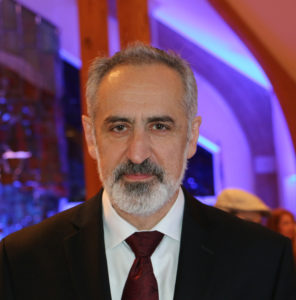 The conductor of The Hampton Synagogue, is a celebrated name in the world of Jewish liturgical music. He holds a B.M. degree in Music from the National Music Academy of Tashkent in 1984 in Conducting.
After immigrating to Israel  in 1990, he served at The Great Synagogue in Tel Aviv where he performed regularly and arranged liturgical pieces. In 1995, he founded  and directed the "Renanim Acappella" choir. As a group they have appeared in Israel's most important synagogues and cantorial festivals with the world's greatest cantors and have been praised for their commanding performances and uplifting services throughout Israel. Along with the liturgical and cantorial music.
Since 2003 Izchak Haimov holding Cantorial degree from TACI ( Tel Aviv Cantorial Institute) under supervision of Naftali Hershtik ( Chief cantor of Jeruselam Great Synagogue). 
In 2003, following the success of  the 'Renanim' choir, Mr. Haimov was invited by Rabbi Marc Schneier to assume the position of Music Director at both Hampton and New York Synagogues.  This ensemble  is one of the leading premier male liturgical choir. In the USA they have  performed in some of the most important concert halls of New York, such as Carnegie Hall, Lincoln Center, Merkin Hall, and The Millennium Theatre. The  choir  has performed very successfully with Kosherica Cruises working with the best cantors of the world. In 2012, they performed at The Kennedy Center for the Performing Arts, in Washington D.C., Cantorial Festival in Baltimore and the International Jewish music festivals in Brooklyn at Master Theatre sharing the stage with world renowned musicians.
In 2015 Mr. Haimov founded the Youth Academy Ensemble at The National Yiddish Theatre Folksbiene and the Atid  Jewish  boys choir of NY which has performed to great acclaim throughout the NY area.