Weekly Update - November 18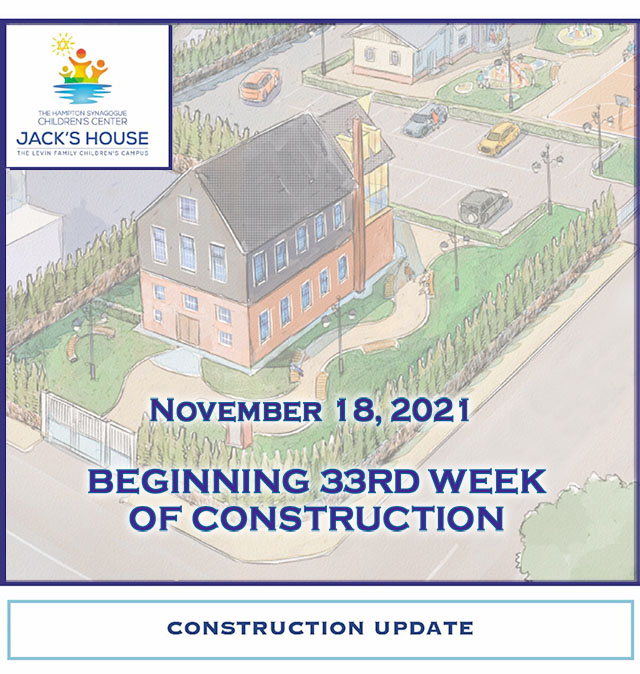 The attached video (above) highlights how our motto, "making the ordinary extraordinary," was especially true this year. We were the first synagogue in New York to fully open with a "100% vaccinated, 100% outdoors" policy, enjoying together the inspiration of our services, a full complement of fantastic programs, and the unique spirit of our oasis for Jewish life.
In the Fall, we have continued with a litany of extraordinary events and activities. Our daily minyan, the only minyan on the East End, continues with twice-daily services. We enjoy large congregations at Shabbat services from those looking to enjoy the autumn beauty of the Hamptons, the warmth of our community, and a welcome respite from the city.
This past weekend, we experienced a most meaningful Kristallnacht Commemoration and are looking forward to a groundbreaking Thanksgiving Weekend Concert, followed by eight special programs to celebrate Chanukah. Later this winter, we will embark upon the "sprucing up" and beautification of our synagogue campus.
At the same time, we are already hearing from members of our congregation who, despite being away from the Hamptons, stay connected to The Hampton Synagogue through our unique television platform. Over the past year, our JBS platform expanded to NBC Comcast network and now reaches 76 million homes, including every major Jewish population center in America. We are so proud to share our extraordinary services with our global congregation, and thrilled that, via television, we can be a united congregation all year long.
Your year-end gift enables The Hampton Synagogue to maintain and enhance our weekly televised services and programs. Cantor Hershtik & the choir will be recording new selections into the winter, and we are upgrading our equipment and overall quality. Our campaign goal of $100,000 will support year-round JBS production.
To make your gift at this time of $1,080, $1,800, $2,500, or $3,600, please click the link below or call 631.288.0534 ext.10.
With best wishes for a happy Chanukah and healthy winter season to you and your loved ones,
"Mimkomcha"
(Rosenblatt)
Cantor Netanel Hershtik
The Hampton Synagogue Choir
A cantorial highlight of this weekend's
JBS Shabbat Services telecast nation-wide
We encourage you to share the unique spirit of our complete services from the Berman Sanctuary, conducted by Rabbi Schneier, Rabbi Bronstein, Cantor Hershtik, Maestro Haimov, and the Hampton Synagogue Choir, by pre-setting your television to JBS TV before Shabbat and davening along.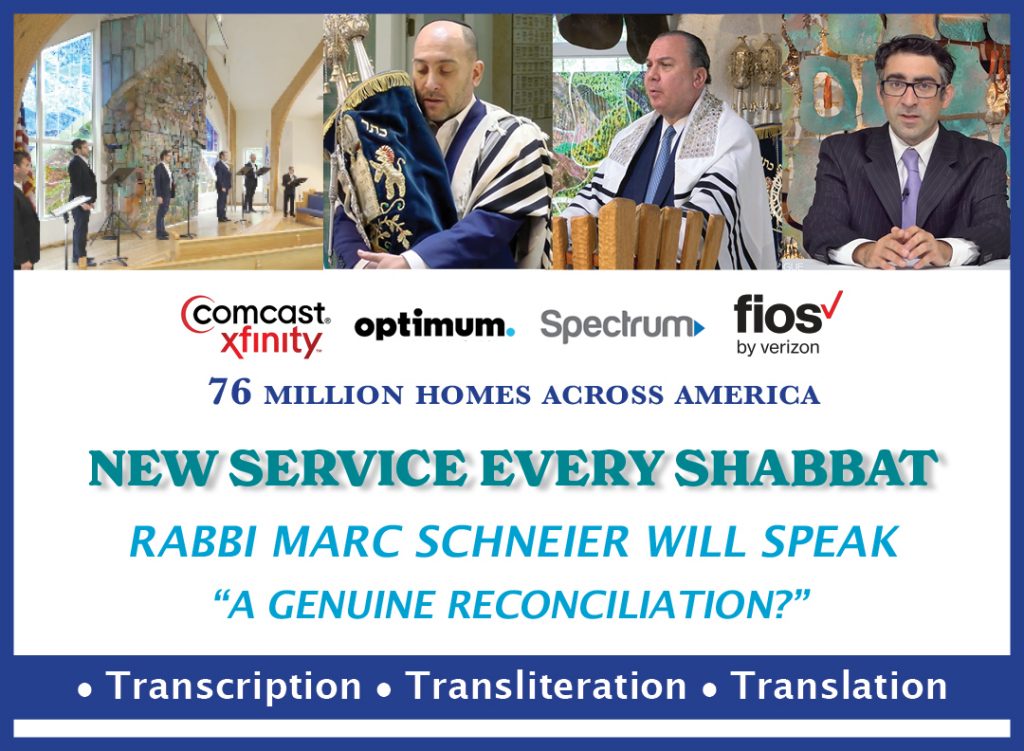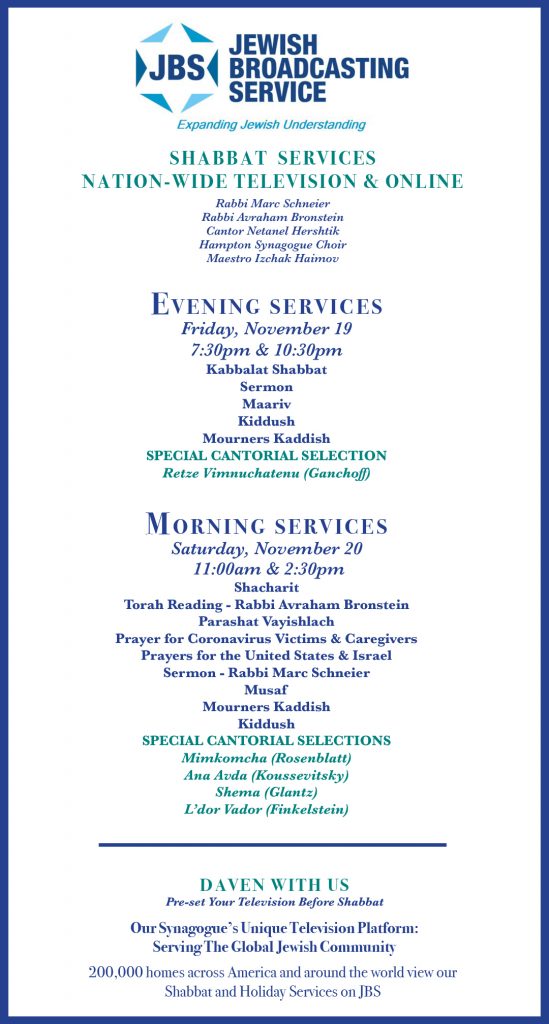 Nationwide – Comcast Xfinity – Channel 1684
The Hamptons & Long Island – Channel 138 (Optimum)
NYC – Channel 798 (Fios) & Channel 219 (Spectrum)
Nationwide – Channel 388 DirecTV
Mondays-Fridays
Morning Services – 7:45am
Evening Services – 4:15pm
Women's Tehillim Circle
Sundays, 9:30am
Robyn Forman, Coordinator
Thursday, November 25 – Thanksgiving Day
Morning Services – 9:00am
We salute our "minyanaires" who are maintaining the strength of our morning and evening services. Special thanks to Rabbi Michael Rascoe for conducting our daily morning minyan. We are proud to provide this noble service – the only year-round daily minyan in the Hamptons and a 75 mile radius on the East End.